Welcome to Ocala Safety Surfacing

Working with safety surfacing will require a lot of time and resources, especially if you are trying to obtain the best possible result for your space. Most people in Ocala do not understand how difficult is to install a surface nor how much work it can involve. As a result, many of them go for the idea of installing it themselves and end up with either of these results:
A poor installation ruined the materials used for the surface and the entire results.

An average result that satisfies most needs.

A good one that could definitely be better but it would require reinvesting in the project.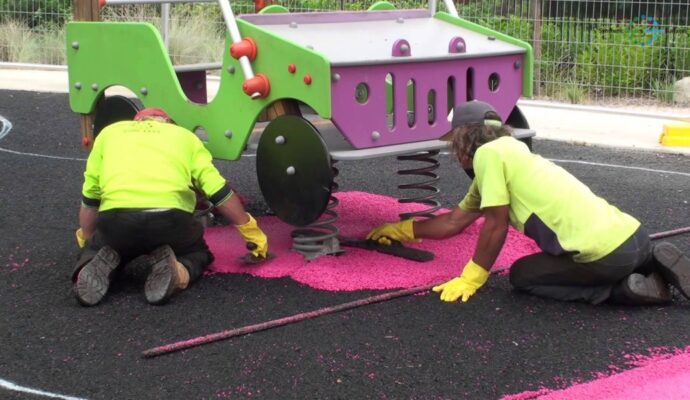 In other words, it is almost impossible to obtain a result that a professional will usually give you but on your own. Experience and training in how to install a safe surface are crucial if you want a good result that will last for many years instead of only a few ones. Now, what if you want to start the project on your own instead of investing in professionals? Besides the previous results, the worst-case scenario—which happens quite often—is having a surface that is not safe at all. After all, the quality of the result depends a lot on how the surface was installed and unlike regular surfaces, the one you choose in this case will have safety as the main purpose.
What we are trying to tell you is that hiring professionals might not be possible for you all the time, but it is the right and best move you can make if you want to be able to enjoy your surface and not waste your time, money, and efforts. But what professional can you hire that will actually provide the desired services and results for your space? At Ocala Safety Surfacing, we have been offering these services for over a decade and we assure you that our experts are well-trained, qualified, and experienced in the field to handle any installation or more services and solutions you might need.
In our case, we work with 7 specific surfaces: bonded rubber mulch, bonded rubber, rubber tiles, poured-in-place rubber, EPDM rubber, synthetic grass, and synthetic turf. There are many more in the market and you might get the chance or have some preferences for different surfaces. However, we decided to focus on these 7 due to their properties, longevity, and durability. Also, they are quite affordable and do not disappoint when the best materials and installations are used and provided. 
We know you will find at least one of them to fit your tastes but more importantly, cover all your safety and support needs for space where you are planning to place it. That being said, our company is also open for more services. This means you can rely on us for repairs, replacements, maintenance, and even ask our experts to provide some advice to be able to choose your surface.
All this project you are considering can involve more than you think and we want to be all the assistance you need during this process. Therefore, before jumping into our services and giving you information for you to choose one, let's focus on a thing or two that you should know about safety surfacing.
Not all surfaces are the same: you need to choose right
Just like it says, not all surfaces are the same even when they are made with the same materials. A lot relies on its complements and the specific type of materials used. For example, the rubber surfaces we have available are made of this material in specific but in the market, you will find several types of rubber that go from low to high quality as usual. Since our company uses TPV or high-quality rubber only, we will stick to it only and focus on the surfaces alone.
Even when they are made of the same type of rubber, the look, composition, system, and structure are not the same. Poured-In-Place rubber is an excellent example since this is a two layers surface that consists of a base layer and a wear layer. But bonded rubber is the opposite: it only has one layer. It is inevitable for them to not have any differences when it comes to both benefits and disadvantages. However, making your decision will not be based on the materials themselves but rather on how each surface is and what it offers you.
Therefore, expect the decision to take a bit longer since several factors influence and will need to be considered to make a well-informed decision.
Not all surfaces resist the same temperatures and climate conditions.

You must determine the shock absorption properties or level required for your space based on the activities, falls, and accidents that will take place.

Your preferences in style and looks matter.

The type of surface and how well it performs in the specific space where it will be installed.

The costs vary and you must define a budget for your project.
At Ocala Safety Surfacing, we take into consideration these factors before anything else when helping our clients and people overall to choose their surfaces. However, many more can come into the picture since some are considered during the project and specific situations of the space or existing surface.
We know there is a lot to handle, but we are here to make sure you go for the best decision that can satisfy your needs, preferences, and will not go over your budget and how much you are willing to invest in it.
Services and surfaces available in Florida
In our company, we focus on providing the specific surfaces we mentioned earlier. However, this does not mean you have to choose one of them for our team to be able to assist you in your needs. Instead, you can rely on us for any projects, need, any problem you have, and just let us know if you are interested in a specific service afterward or if you are confident about knowing what you want. That being said, you can get to know a bit more about our services below:
How we help you with your surfacing needs
---
As we have mentioned a few times, you will notice that our company Ocala Safety Surfacing is able to handle every project and need in your hands. Therefore, if you are worried about not being able to find a reliable company to solve your problems and repair the surface or maybe place a brand-new one, you can always reach out to us and allow our professionals to offer the assistance you need. Keep in mind that we only have well-trained and experienced professionals within our team, and when it comes to the materials used for each surface available, we only included high-quality ones.
Just like with turf and grass for which we use nylon or polyethylene, the rubber we use to fabricate our surfaces and pieces is only TPV or the EPDM rubber itself. We do not want to provide a low-quality surface that makes no sense at all and instead, make sure that it will last thanks to both our materials and the installation performed by our team. And this applies to other repairs, replacements, and more services we can provide. Finally, if you are doubtful about being able to reach out to us, do not be.
Ocala is indeed the main place where you will find our offices and services but it is not the only one. The entire state of Florida is within our jurisdiction and we are able to offer services to every state in the United States. We are a nationwide company that is worried about expanding its services over the years and guarantee the same top-notch results regardless of who contacts us and from where. With this in mind, we encourage you to rely on us and allow our team to be the solution, help, and assistance you have needed all this time.
Below is our list of additional services: