Best Synthetic Turf Installation Services in Ocala, FL

Before knowing the differences between real and synthetic turf, it is crucial to know that grass is not the same as turf in terms of safety and even their look. Most of the time, the surface you will see in patios, yards, and similar places are definitely grass since it is commonly used for landscaping and those areas. Also, you will notice that the green is light and the blades are long which allows providing a soft surface with great support.
That being said, turf is the opposite: you get a solid and tough surface due to the short blades and the green is darker. The function or purpose of each one also varies and makes sense for those that take a bit more time to learn about them.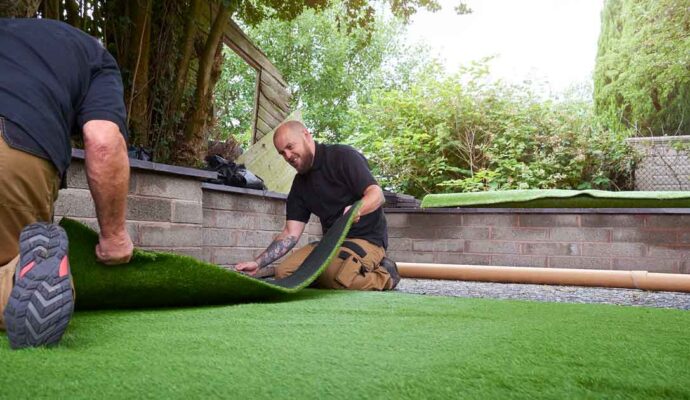 In the case of turf, due to the type of surface it offers, sports and training fields find it more useful in terms of performance, support, and shock absorption. Playgrounds, schools, and similar places also have turf over grass although you might believe it is actually the latest. Now, how does this translate to synthetic turf and not choosing the real option? Common sense tells you that since turf is natural it means it is eco-friendly. However, this is far from reality.
The surface requires a lot of maintenance and watering, which gives you a hint about why it is not the best option to help the planet. You might have a natural and green surface but it takes a lot to maintain it just as you want it and without overgrowing as nature would indicate. As a result, you have a surface that brings many expenses and more factors to consider over the years instead of being the opposite. After all, you should be able to see some return on your investment, not having to spend more. Here is when synthetic turf enters: you get the exact same performance and result but without having to provide maintenance nor watering.
The artificial option is amazing as long as high-quality materials are used for its fabrication. You get the same green look, great support, grip, and shock absorption without having to worry about future expenses.
How to choose a high-quality synthetic turf
The ones you will find in the market are not all the same. Just like with other surfacing options, some are of great quality while others will last for a few months or years at most. Therefore, taking your time looking and choosing your artificial turf will be crucial for the result you will obtain. Essentially, you must aim for those made of nylon or polyethylene and, in some cases, both materials at the same time.
A very common turf option you will find is made of basic plastic and similar materials that are of low quality and only offer you a surface that will last 5 years at most when the high-quality ones go up to 20 years and more. At Ocala Safety Surfacing, we only use nylon and polyethylene for the turf we have available and you can acquire it with the installation included in the price. It is important to point out that the quality of the installation influences the final result which means you need to look out for the materials but also how it is installed.
Our experts and professionals are more than familiar and experienced with this surface and will guarantee the best results regardless of the specific location where you plan to place the turf. In our case, we highly recommend using it where sports or training take place; playgrounds, city parks, public spaces where green and safe surfacing is needed, and similar ones, are also on our list of recommendations.
Synthetic turf main properties and benefits
---
Leaving aside how eco-friendly it is as well as the look you obtain compared to the real one, the truth is that artificial turf offers better properties when it comes to shock absorption and support. The surface you get with it is tough and solid but thanks to the blades system and how it is built, you get one that is also soft in its own way. What we want you to keep in mind is that these short blades are the ones that provide a better grip when performing any activity or action on top of it.
This is why stadiums and similar places are a great option when you think about using turf. When it comes to shock absorption, you get the same characteristics or level as grass, and the fact that we only use nylon and polyethylene guarantees a continuous performance in this aspect. You truly will not have to worry about how well it will perform with heavy traffic when falls happen, or with any type of high-impact activity or action. As long as you have high-quality turf installed and properly placed, there is nothing to worry about.
Now, if you need a list of the benefits you should expect from it, allow us to summarize it for you:
Longevity: up to 20+ years of use.

Maintains its performance and support over the years.

Low maintenance.

It does not require watering.

You get your money returned during the first 2 to 5 years.
At Ocala Safety Surfacing, we will make sure that when we install this surface for you, you get all these benefits and advantages from now on. If not, there would not be a point in using the surface since it would be the same as going for real turf. Therefore, leave everything to us and our experienced professionals in the field that has been working with this surface in Ocala, all over Florida, and with people from every state in the USA.
We want you to know that our services are not only available in the state since, as you can see, but we have also been helping many throughout the country. This means that if you need our services and the surface for your space, you can contact us from wherever you are.
Below is our list of additional services: