Best Safety Surfacing Installation Services in Ocala, FL

Do you have any project or problem in your hands that is related to safety surfacing? Then, you should start by trying to find the experts who can help you with it. Many people indeed choose to handle these problems and projects on their own. After all, it is not weird to know about individuals who installed a surface in their floors or other places by themselves. However, when you take this idea and consider how important the installation is when it comes to safe surfaces, we encourage you to reconsider the idea of handling it on your own, and the same applies to other tasks like repairs and maintenance.
You see, when you compare a regular surface like ceramic tiles, the truth is that it is hard to do something wrong with them that will greatly affect its use. It may not look too stunning as a professional would make it look, but you still get a functional and good-looking surface when you do it carefully. Of course, many people end up wasting their time and resources but let's focus on the results that classify as average.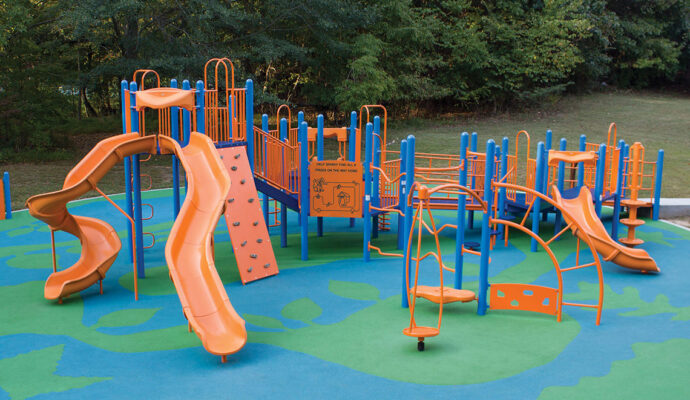 Now, what is the difference with a safe surface? That a simple mistake can turn it into another regular surface. In other words, many people who go for the idea of handling the projects and problems themselves damage the surface and what it should have of safety goes from 100 to 0 quite fast. This is why we want you to keep something in mind: the quality, performance, and longevity of a safety surfacing option depends on the materials used but also on the installation and future services. Consider it a 50/50. Therefore, finding professionals is the best move you can make and we highly recommend you ours from Ocala Safety Surfacing.
Our experts have been working in this field for at least 5 years and we make sure to keep them updated and well-equipped for them to provide the best result regardless of your needs. Although installations, repairs, and similar services are the ones that come to your mind, we are aware that people overall have problems even choosing the surface or determining the required service, which is why we offer advice, recommendations, and just common answers and guidance for your doubts and questions. Feel free to contact us when you have something in your hands and want to get started. We will do our best to provide you with the right services and best attention possible.
How to choose the right safety surface for your space
This is usually considered to be simple. However, many factors influence your final decision. Why? Because unlike regular surfaces that you would usually install in your home or commercial property based on your preferences in style and looks, you need to consider the properties and benefits that a safe surface provides you. Keep in mind that safety is your main purpose and worry, which is why you have to determine—first of all—how much shock absorption and support you need from it.
The best way to determine this is by thinking about the actions, activities, and people who will take place and use the surface or space where it will be installed. Let's take one of the most common spaces as an example: playgrounds. Kids playing everywhere falls and accidents happening quite often, and a lot of traffic. Does this describe for what it is used? We believe so! In a space or place like this, it is inevitable to want enough shock absorption since you have to make sure to reduce the harm from falls and other accidents.
Falls up to 12 feet or even more are quite dangerous but other accidents that are either similar or worse should be kept in mind. Based on this, you can choose a surface that meets your shock absorption needs first and then start thinking about how you want it to look. However, let's focus on another factor as well: the temperature changes and climate in the city.
Not all surfaces are able to resist the same temperatures and although you are not limited to only installing them in a few spaces, you might end up spending more in the long run when the surface is unable to keep up with the external conditions. Therefore, if you want to choose the right surface, we recommend you keep these main factors in mind:
The temperature and climate in your city so you choose the most suitable surface or include additional measures for one that might not perform too well with it.

Your budget for the project is crucial to know what surfaces are off-limits.

Shock absorption levels but also support.

The specific place where you will install the surface.

Your preferences in design, looks, and aesthetics also matter.
Can we help you to make the decision?
---
If you are worried about not being able to make the best decision when it comes to the surface, do not worry. Our team at Ocala Safety Surfacing can help you regardless of the project you have in mind. We are aware of how hard it can be to consider the previous factors and still having to evaluate all the options available in the market. We want to make sure to make a well-informed decision but if you feel overwhelmed in any possible way, we are right here for any advice and recommendation you need.
That being said, we have very specific surfaces available in our company and all of them meet several factors at once, starting with how perfect they are for spaces and places in Ocala. However, we have to point out how each one of them has its own strengths. Therefore, you have variety and options to choose from and to know what is the best from them, we will give you a small introduction. Now, for any other need like repairs or specific services you already know you need, feel free to contact us as well and let our professionals know your situation and projects.
Below is our list of additional services: