Best Bonded Rubber Installation Services in Ocala, FL

What do you need to know to choose your safety surface? Well, many factors and aspects need to be evaluated, and trying to be a bit informed about it all is the best thing you can do. In the case of having your eyes set on one option like bonded rubber, you can focus on it before anything else. What we are trying to say is that choosing your surface will not be easy.
Temperature changes, climate, preferences, shock absorption needed, and many other factors influence the decision and will help you determine which option is the best for your space and needs. However, it is all right to have a specific surface in mind and want it before any other is also acceptable, but if you want to make sure it is the best option, start researching and learning about it and if you end up discovering that it may not be the best, you can start looking for solutions based on the same surface.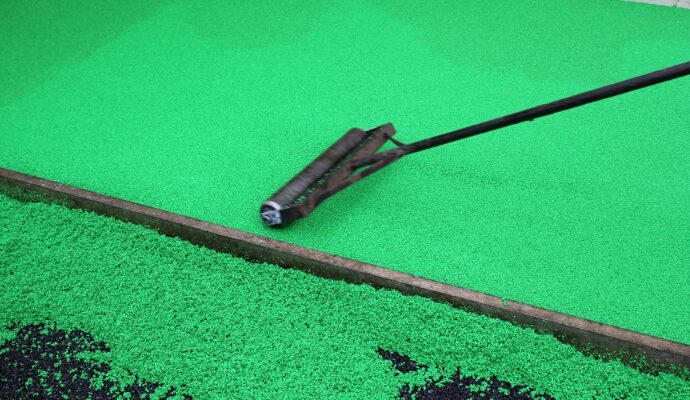 This can take a lot of time, work, and effort, and sometimes, you might not understand what you are reading and what does something has to do with the other. In those cases, relying on professionals from the very beginning is the best choice but you also have to make sure that these professionals are experienced, qualified, and can truly provide you with the solutions you need and, in this case, the information as well.
Our team at Ocala Safety Surfacing will help you from the beginning. What does this mean? That any doubt, question, or worry about bonded rubber can be cleared with us, and if you have any inconvenience with safety surfacing overall. We have been in this industry for over a decade and if there is something we can promise you is: we are more than qualified and experienced to handle all your needs.
When you are trying to choose a surface or get to know about one, knowing the basics is the first move and we will start right there.
What is special about bonded rubber?
In all honesty, the surface can be considered quite simple. However, we all know at this point that 'simple' does not mean bad. Having a very simple yet good surface for your space can be the best move instead of going for a more elaborated one that might satisfy your needs but could require more effort and investment. Bonded rubber is a basic surface that consists of one layer and it is over 60% made of rubber, which is a recycled material that is popular for how it deteriorates and contributes to the planet even after it is no longer a good surface.
When it comes to its characteristics or benefits, how porous the surface is as well as how it drains are the main ones to mention. Not many surfaces are able to drain well and offer porosity, which leads them to have issues in places where rain or cold temperatures are frequent. Therefore, you can consider this rubber surfacing option to be a great acquisition if you are in a place that fits the previous climate or where water is common for the surface. For example, pool areas. Now, is this all you can get from it? Not quite.
The truth is that it does not require a lot of maintenance, can be easily cleaned, and its installation takes place quite fast as well as how quickly it dries compared to other surfaces. In a matter of 2 days, you can have your surface ready without too much effort as long as the right professionals are handling the project. Something to keep in mind is that the quality of the rubber is what can affect the surface's performance, longevity, and durability. This is why you might notice some of these surfaces performing poorly but that is all up to the materials and also how well the installation took place.
When to install bonded rubber
If you are looking for a porous surface that drains wells, then you do not have to look for it any longer. However, this includes many spaces and places where you could use it and not all of them are the right ones most of the time. It is crucial to consider factors like the climate in the city, what you will use your space for if it provides enough shock absorption for the activities, and your preferences in the design.
It may not be too important to consider how it looks but, in the end, you also want a stunning surface instead of a boring or not aesthetically pleasant one. In terms of looks, the surface will not disappoint but it depends on your taste as well.
If you need some recommendations about where to install it in specific instead of when you can consider these spaces or places to be the main ones:
Playgrounds.

Pool areas.

Patios.

Yards.

Parks.

Kindergartens.

City parks or public spaces overall.
At Ocala Safety Surfacing, we recommend keeping the use of the surface for outdoor spaces although you can use it indoors. For example, schools tend to install some safe surfaces in their installations to reduce the harm from falls and accidents that happen to kids. However, several additions must take place in order for the surface to work properly in the space.
Our team is able to help you adjust it according to the place where you decide to install it and in all honesty, we encourage you to use it when you feel like it as long as it covers the main purpose: safety. For the rest, you can rely on our professionals who are quite experienced and qualified to handle several projects and ideas you might have. If you have any preferences or problems, you can let us know in advance for us to plan a strategy and make sure we are approaching everything correctly. This surface is not an issue for us since we have also included it within our services since we started in the business 12+ years ago.
Below is our list of additional services: