Best Synthetic Grass Installation Services in Ocala, FL

When you have the real option available, why would you choose synthetic grass over the usual one? What people do not know about real grass is that it is not as good as they believe. First, you have to water it all the time and, at first instance, this does not seem too bad. However, when you stop yourself for a second and start thinking about how this affects the planet, you finally get it is not eco-friendly at all. Also, you spend a lot of money is your basic bills. Second, it requires a lot of maintenance. It does not look like it but maintaining the green look and support properties of the grass is not simple.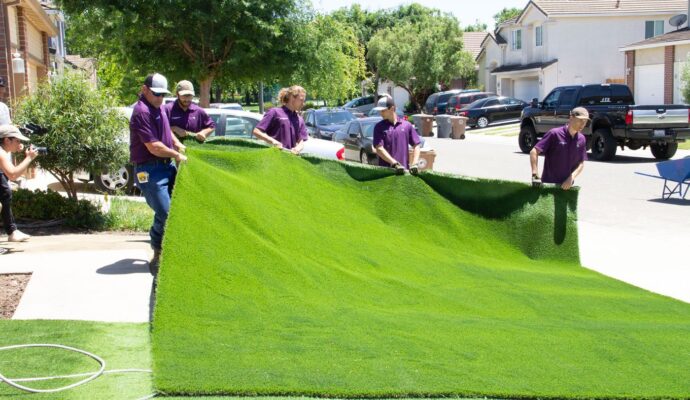 Chemicals besides the watering as well as performing general maintenance in terms of how it looks, are only a few things you have to handle when having real grass. In the end, you have a surface that brings many expenses over the years and instead of getting cheaper or more affordable, you have more resources to invest in it due to the constant maintenance. Now, is it worth the look and properties you gain from it? Not when you have a synthetic alternative that offers the same but without having to spend more money later on. Synthetic grass, for many, is only fake and something you would not use most of the time.
The term "fake" is not quite proper for this option since it is a matter of using a surface that offers the same but even better in the short and long term. Therefore, we would classify it as artificial and not something rude as fake. After all, you gain more from it than the actual real grass. However, we understand that people are skeptical about it due to how expensive it can be or if the grass is of real quality, which takes us to the next part: not all synthetic grass is the same. Since it is not made of natural elements, you can use several materials to make the grass, and here is when you start finding several types and options in the market that make you doubt about how good the surface is or not.
The grass that is made with basic plastic or similar materials, is expected to be of low quality due to the composition of the material. It is clearly not a good one and the result you get from it will be the same, at least when it comes to grass. But when you find an artificial option that is made of nylon or polyethylene, you can expect it to be your salvation. At Ocala Safety Surfacing, we only use these two high-quality materials for the fabrication of our synthetic grass and we assure you that the result you will get is going to be beyond stunning.
Keep in mind that we not only offer the grass you will use for your space but also the installation. We can handle the entire process which is why we always encourage people in Ocala and all over Florida to go for our services when needed to use grass in any area they want.
Benefits of choosing synthetic grass over the real one
Mentioning the fact that you will not have to water it nor provide frequent maintenance, the truth is that the benefits lie in how well the surface will perform over the years. When we say that it looks just like real grass, we mean it, but to be more specific about it, it will look like real grass when it is 100% maintained and well-taken care of. If you are expecting it to look good all year round, the artificial option will not disappoint and its support, as well as shock absorption properties, will remain.
Now, grass in general is not commonly used as a safe surface but rather for landscaping. If you are worried about how aesthetically pleasing the synthetic option will look, there is no need for it. Instead, think about how well the surface will perform when it comes to supporting. The grass might be the best option for patios, yards, city parks, and similar places where you want the green look, but it does not mean it is the safest in all of those cases. The support and shock absorption are normal and not something that competes with others like Poured-In-Place rubber. However, if you are just trying to have a normal and regular surface, definitely go for it. That being said, the comparison between the real and artificial ones is purely based on longevity and how easy is to maintain it.
Real grass can last for decades but under several conditions and many resources. Artificial grass can offer you 20+ years and you will get a return of your money during the first 2 to 5 years without a doubt. The installation of the surface is not expensive either unlike what you might think, especially when you rely on our professionals for. Therefore, there is no much to continue comparing since synthetic grass is clearly superior in all aspects.
How to start installing your grass
---
It only takes a call, email, or visit to our offices where our personnel will answer all your questions, clear doubts, and provide the service right away when requested. It is not difficult for us to work in any space where you want to install it: patios, playgrounds, yards, kindergartens, city parks, and more. Instead, it tends to be quite simple since it is not too hard to install the grass but it does have to be done well if you want the result to be what you expect from the surface.
At Ocala Safety Surfacing, we have been working with it for over a decade since it is one of the first surfaces we started to offer not only for installation but also to help with replacements, maintenance, and even repairs. If you have any need, project, or problem with it, make sure to contact us right away.
Below is our list of additional services: