Best EPDM Rubber Installation Services in Ocala, FL

Rubber is a very popular material used for all types of surfaces and applications depending on how you use it and process it. You get many options when it comes to the types you can find in specific and EPDM rubber among all of them is the most flexible and durable one. When it comes to safety surfacing overall, there is a lot to understand to know why a surface is a good option or not for your space, why you might want to invest in another one, and just make decisions about your projects and ideas. However, most people limit themselves to just knowing the essentials, which is not bad but it is not good either.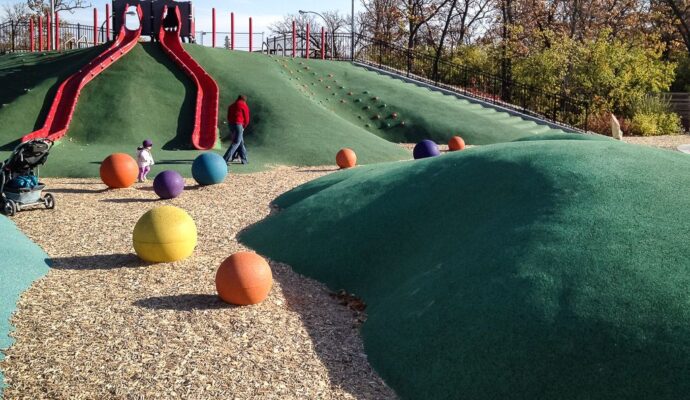 In our experience, the best decisions are made when you are properly informed about the topic, and as tedious as it can be, the truth is that taking your time with safety surfacing is the right choice. With this clear, rubber is a material you will see quite often and hear about a lot. TPV rubber surfaces like bonded rubber, Poured-In-Place rubber, rubber tiles, and so on; the list is almost limitless and you will find yourself among many options you can choose from. Now, how do people end up choosing EPDM rubber among all of them?
First, you must know EPDM is a material and type of rubber in specific as we previously mentioned, but it is also considered a general surface since when processing it you do not get something else but just the material to use for surfacing. Going back to the question, the reasons are many:
It is very flexible.

It can last for over 40 years.

Extremely durable.

It has a wide range of applications due to its flexibility.

Offers great properties that are not limited to support and shock absorption.
Since the option is so good, you can expect it to be a bit less affordable compared to other rubber alternatives and even surfaces made with different materials. However, we can guarantee you it is worth your investment since you always get your money back thanks to how long it lasts and how you can use the surface. 
At Ocala Safety Surfacing, we have been working with the surface for a very long time and personally, it is one of our favorites not only for its longevity and flexibility but also for how stunning it can look with proper installation. Therefore, if you are interested in knowing more about it, considering it for your space, and finally install it, you can rely on our professionals for the task.
When and where is EPDM rubber commonly used?
Something that could surprise you is: it is not used for flooring most of the time. The surfaces we discuss in our company are clearly for flooring most of the time since playgrounds, patios, yards, city parks, and all the places you can think about usually need a safe surface where falls and accidents take place yet are not too serious nor cause too much harm. However, EPDM rubber can offer several functions since it is mainly for roofing due to its properties and flexibility. Does this mean it is not the most suitable as the safe surface you were thinking about? Not at all.
The beauty about it is that you can use it anywhere. Door seals, vehicles, cooling systems, and many other applications are possible and we assure you that the usual one for flooring is not an issue. With this clear, how would you know if this rubber surfacing option is the right one for you? Although it is great and an option you should definitely consider in every situation, everything depends on your needs as well.
For example, if you are looking for an extremely safe surface that can offer great impact absorption properties, we would recommend Poured-In-Place rubber over this any day. Every surface has its strengths. Rubber tiles are amazing for support; synthetic grass to avoid using real ones and get the same benefits; bonded rubber to have a surface that drains well and has amazing porosity, and we could continue mentioning more.
In the case of the EPDM option, we recommend it for spaces where non-slip properties are needed, great noise absorption is welcomed, and more than a normal or average shock absorption is enough. Also, if you are trying to get the most out of the money you will invest when it comes to the surface's longevity, there is no doubt this option is the best. Overall, you can use it for everything and sacrifice a few benefits from other surfaces in order to obtain different ones with this. As we already mentioned, everything depends a lot on your needs. We recommend you focus on safety and then start worrying about aesthetics and your own preferences.
Why use EPDM rubber
---
If you are just trying to convince yourself and just make the decision once and for all, we are confident this information will be useful. Overall, it is crucial to know why you would choose a surface over other and we encourage people to take some time to do proper research or just read what we have to say. In the case of this rubber option, the reasons are plenty:
It offers the best noise absorption properties among safe surfaces.

Its non-slip properties are always welcome.

Withstands temperature variations for decades.

It can be used for more than just flooring.

Unless you need extra shock absorption, it performs quite well for any space.

Wide range of colors and patterns available.

Performs well during all the years it lasts.

Low maintenance.

It is simple and easy to clean.

It can be easily removed when you need it.

Repairs are not frequent nor usually needed even after decades.
In our company, Ocala Safety Surfacing, we will make sure that if you choose to install the surface for the previous options, you truly get the benefits of doing so. Therefore, if you are finally ready to make the decision or maybe need another type of assistance for the existing surface in your place, let us know right away.
Below is our list of additional services: